The ducklings are waiting at the front door.  They're clad in hats, rash guards, gloves (oddly, the littlest duckling likes to wear a glove most of the day).  The oldest duckling is carrying a bottle of sunscreen, fished out of our pool bag which now hangs by the front door replaced by our bag of winter hats and mittens.
They call out to me impatiently,  "Mom…c'mon, Mamaaa.  Pleeeease, Mom…c'monnnn."
Standing in the kitchen, braced against the island, I swallow the last of my morning latte.  Our front door has become the floodgate, breached daily.  Once open, we propel forward, flowing outside, into the day.  The excitement pours off the little ones and spills onto me.  And out we go to mop up the sunshine and fresh summer air.
During the winter months when we spend so much time in the warmth and comfort indoors the bulk of our days' activities are guided by me.  I set up various art projects, cooking and baking, quiet time for cuddling and stories, playtime.  But during the warm months, spent mostly outside,  I let guidance fall by the wayside.  It's instinctual, really.  Take children outside and let them be free to do what they want in a safe, supervised environment and watch them.  I'm sure you know what I'm talking about.
I find a slip of shade and lay my quilt on the grass.  The ducklings pitter-patter nearby.  One's helping a neighbor water her garden.  The other one is digging a hole and filling it with water from the hose in our yard.  A robin zips back and forth overhead, every now and then a worm dangling from its mouth.  Two small butterflies, heaven white, perform a fluttery ballet over another neighbors' spread of lavender.
From my quilt, I watch.  The ducklings zip around, giggling.  I notice when they sit down, quiet, pausing to take it all in.  I take it in and breathe a deep breath of gratitude when they pair up and play together, kindly.   Outside, they are living, thriving, shining in the moment, and to their own beat.  And while I watch, they show me an unprompted zealousness for the Now, which is really all that matters.
When I'm not under the shady tree watching, or giving a spontaneous hug or cuddle, mediating, or being told one heck of an imaginative story about a 400bcx series something-or-other with an unbelievable turning radius, I am cook and waitress.  I whip up slices of bread with peanut butter and apple slices.  I schlep out bowls of ice cold watermelon, goldfish crackers, cups of water.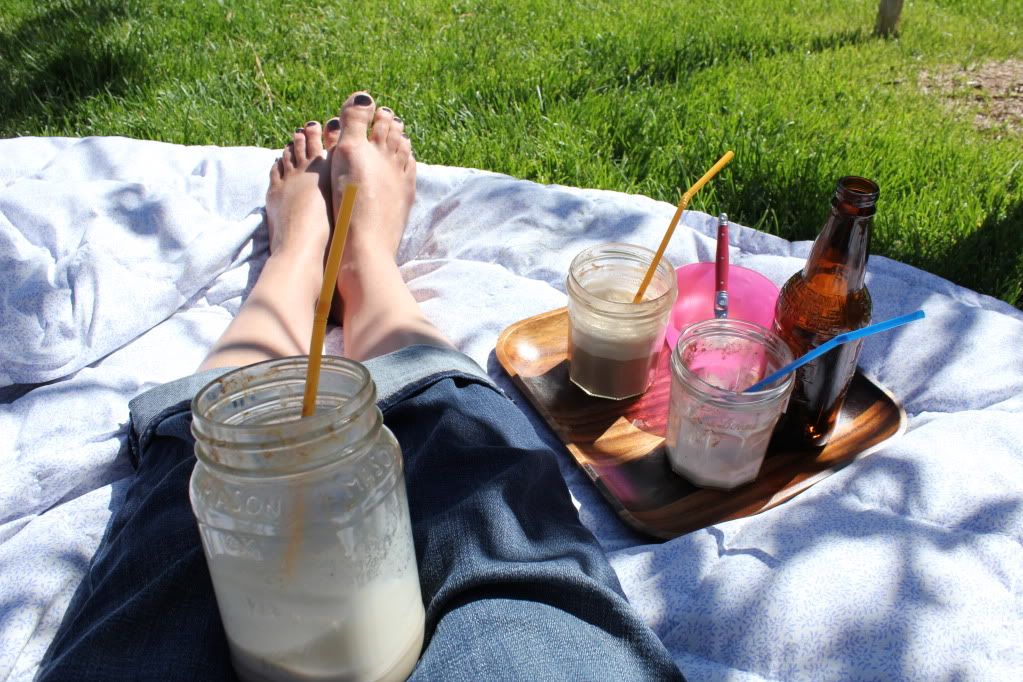 Later in the day, after a nap and reprieve from sunshine, we head back outside.  Only this time it is me who is waiting for them at the floodgate.  In my hands I hold a tray of root beer floats.  I will move my quilt to a new spot of shade and we will spill back into the day.
How we spend our days is, of course, how we spend our lives.  – Annie Dillard
Tags: Annie Dillard Quote, Mothering, Summer Day